---
Retro style banquette for Sydney cafe
---
Retro style banquette for Sydney cafe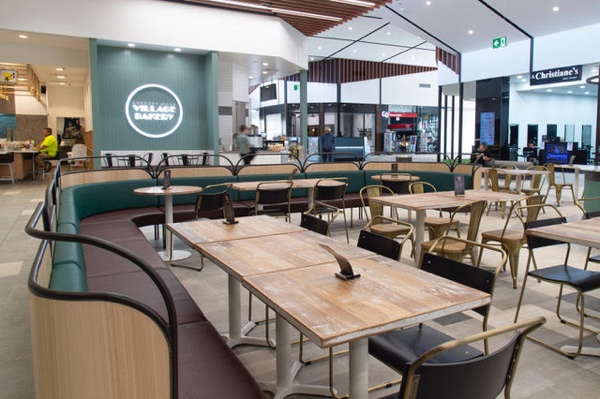 It's estimated that three out of every four Australians have one cup of coffee per day. Of those, 28% have three or four cups per day. But it's not just
great coffee customers look for in a Sydney cafe, it's atmosphere!
Cafe layout, seating and design are vitally important. A beautifully fitted cafe can be as big of a drawcard as serving great coffee or Instagram-worthy
pastries.
Recently, Sydney architects Tom Mark Henry designed an exciting new look for the Robusta Cafe, Gregory Hills,
in the booming Macarthur region of Sydney. The design called for custom-built booth seating which we completed in conjunction with a local shop fitting
company.
Banquette seating is perfect for cafes
Booth seating (also known as Banquette seating) has an appealing, classic style and is often used in cafes. The retro style used in the Robusta – with
it's curved, plumpish detailing – is not unlike a New York delicatessen. The big upholstered seats just beg you to come in, sit down and enjoy a coffee
and a bagel.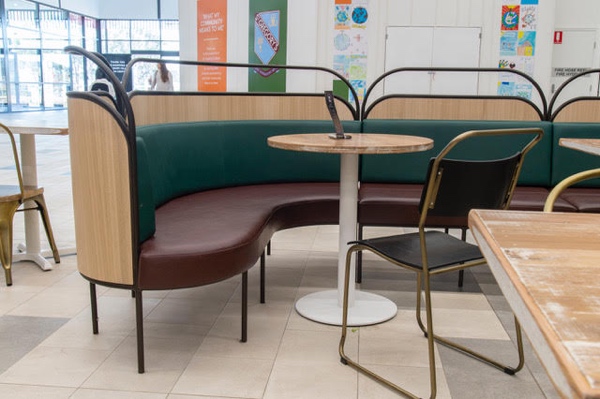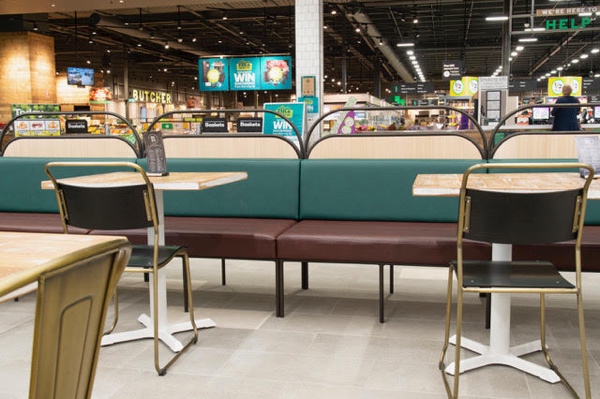 Custom cafe seating
The Robusta sits in the middle of a busy shopping center and does not have structural walls. Cafe booths are usually built on timber frames that go up
against a wall. But these particular booths are free-standing with upholstery built into the metal frame work. This unorthodox design presented us
with an enjoyable commercial upholstery challenge, which we were only too happy to take on.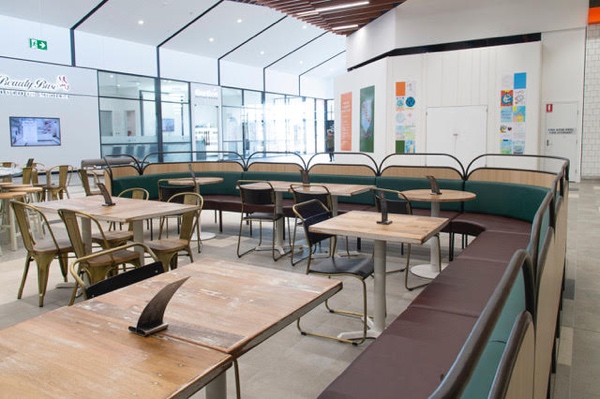 A fine quality European vinyl added added a nice stylish subtlety to the seating. Being a commercial grade vinyl, it replicates the supple feel of leather
but is easy to clean and is also fire rated. (Knowing the fire-rating of your furniture is essential if you're operating a cafe in Australia).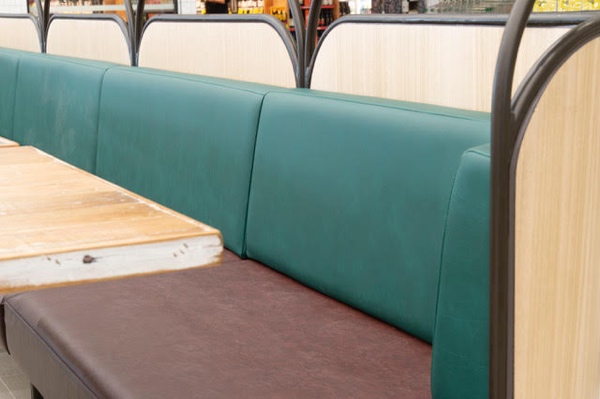 Is your cafe in need of new banquette seating? Our commercial fitting team can build and install a custom seating solution to fit your space and budget.
Contact us for a free project estimate.