---
Inner City Room Renovation
---
Inner City Room Renovation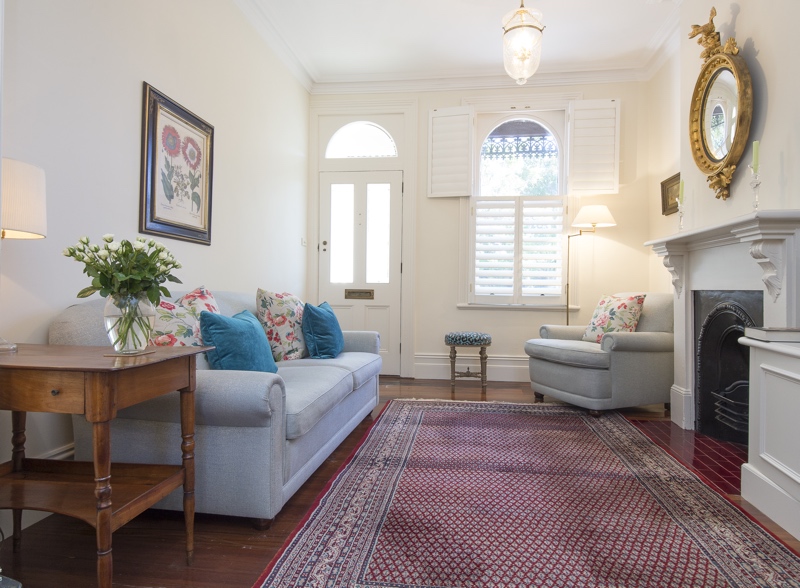 There's no denying the creative possibilities offered by Sydney's heritage buildings: whether a beautiful inner city terrace or a stylish art deco apartment.
But the demands of renovation and re-decorating can be daunting. Renovations are often brought about because the original designs created rooms lacking in light and space. People simply lived differently. But with some careful planning and the right architect or interior designer, the task at hand can be a pleasant and rewarding experience.
New decor in Paddington
Recently a customer's plan to redecorate took us to Paddington in Sydney's inner west.
Paddington is a suburb full of terraced units and leafy streets that was once considered to be a slum area. By the 1960s, gentrification had shifted Paddington's demographic profile and bolstered demand for property. Today, Paddington is one of Sydney's most sought after locations.
Typically, these terraces were built joined together, each with a small garden out the back. Why? Most experts will tell you that it's the same reason they use similar design plans today. More bang for your buck!
Despite being a problem to heat before electricity, high ceilings were implemented as a design choice. This allowed for detailed interior plaster work, such as roses and cornicing. Now these 'period' details are in very high demand as is the purchaser's desire to renovate them.
Finding a lounge that fits
Our clients moved into Paddington 25 years ago. Like most people, they initially encountered a few challenges decorating the small rooms in their home.
One of which was to find a lounge that was the right fit for the lounge room! (And this was before the chunky arms and broad seats that are on-trend today).
The solution came in having their lounge suite handmade to fit the dimensions of their room. The completed item was nothing short of superb but – after 25 years of loving use – desperately needed some quality TLC.
In addition to reupholstering the lounge, they sought to update an armchair and vintage footstool which would also decorate the room.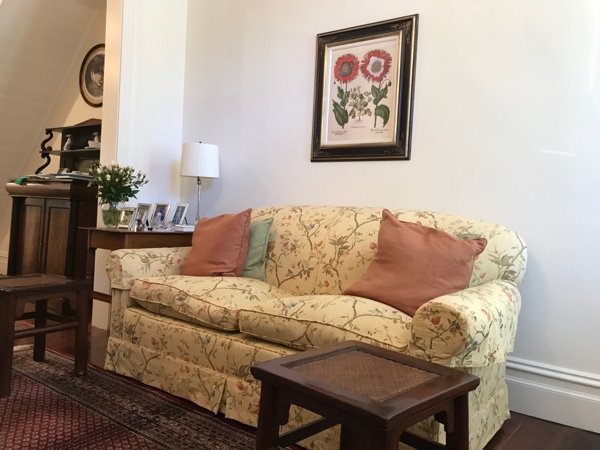 Upholstery repair and restoration
Weakening springs and structural wear had made their furniture uncomfortable to use. So as part of the bespoke upholstery process we ensured that all the furniture pieces received repairs to their frames. It is common sense to carry out a complete frame inspection and to re-glue the joints while the upholstery is stripped off. Such an opportunity may not present itself for another 25 years.
We replaced the springs, cushioning and of course the upholstery fabric. It's appro with new springs, cushioning and upholstery – topped off with Upholstery Solutions very own feather-down cushions and new polished timber legs.
Selecting fabrics and colours
The client's room was decorated with a mixture of reds and golds, including a Persian rug, making it difficult to find coordinate colours. As such, the client made the smart decision and called for our professional design assistance.
We then made a visit to the client's home, offering a range of fabrics that would fit her vision. She needed colours that would work with the 'reds and golds' and patterns and not compete with the Persian rug.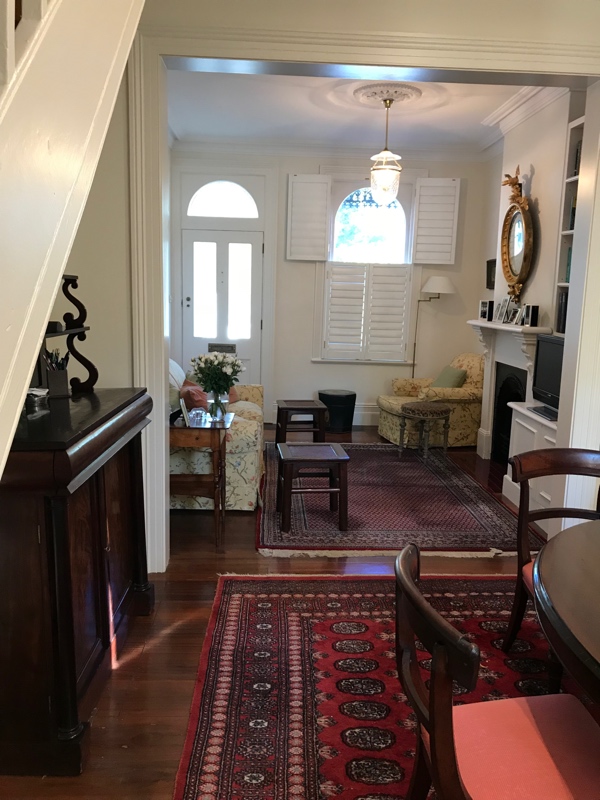 For the lounge and chair the client chose a textured linen blend in Powder Blue.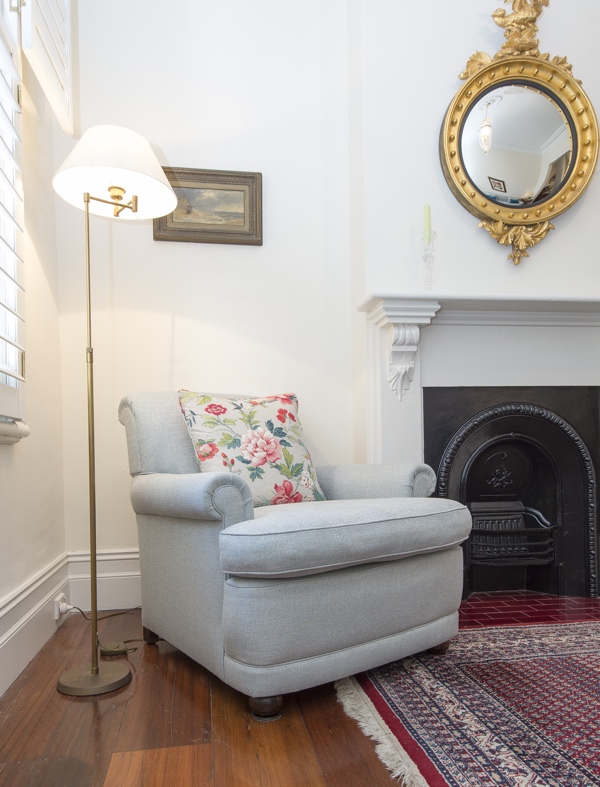 An abstract pattern of Aqua Spots gave the footstool a nice subtle contrast.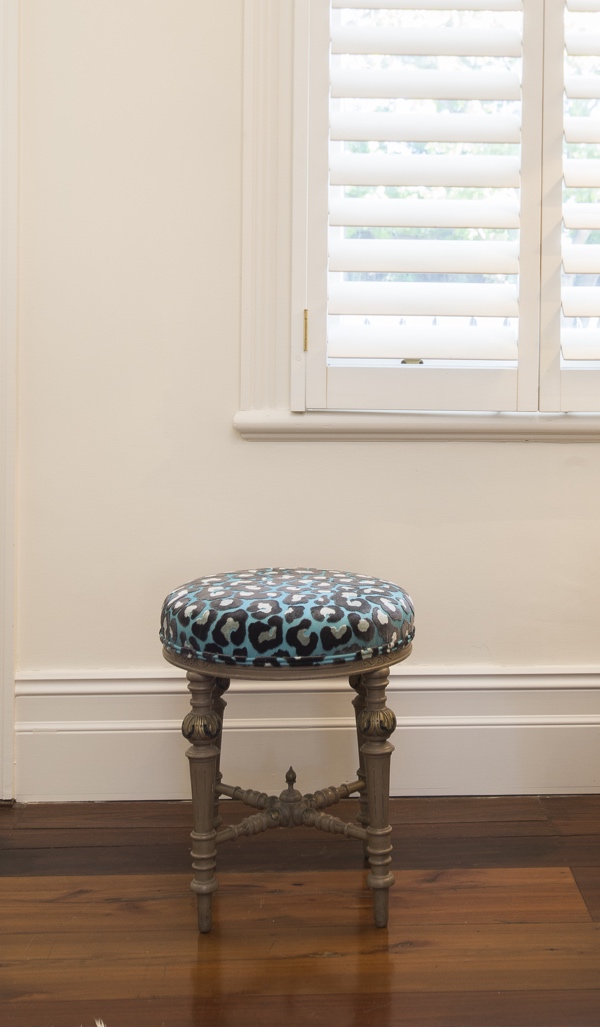 Finally, the accent cushions stand out perfectly through a mix of vibrant blue/green Peacock velvet against the floral with soft red flowers.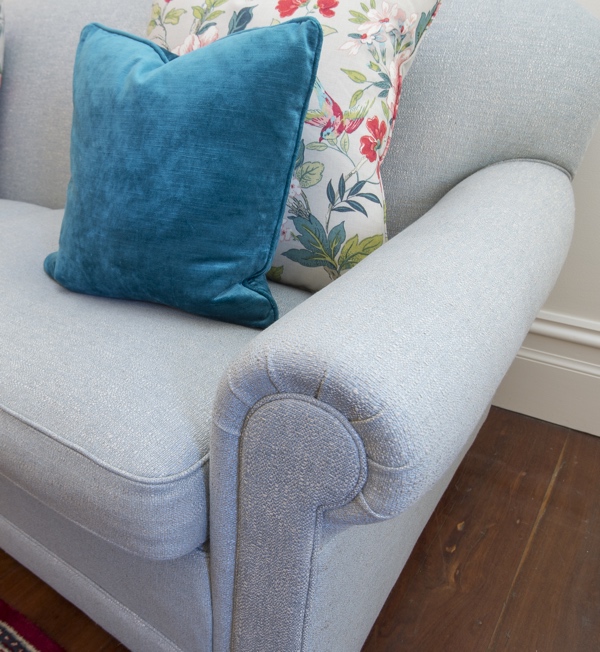 As you can see the colours blend in beautifully to create a relaxed feel with a bit of added personality through the cushions and footstool.
Experience the creation
Yes there are challenges when it comes to decorating heritage terraces and flats. Not least finding furniture that will fit! But with the right advice these interior design challenges are but a small hurdle.
Do you have a room in need of a renovation? Upholstery Solutions have the experience to assist with interior design, furniture restoration and bespoke reupholstery. Contact us to discuss your interior project.