---
Before & After: The lounge that grandpa built
---
Before & After: The lounge that grandpa built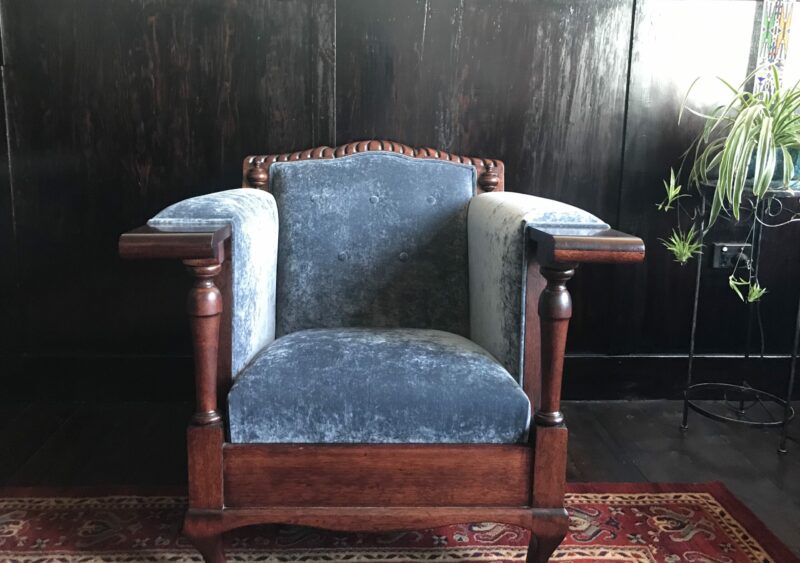 We are often surprised by the personal stories that furnishings can hold. Every so often, reupholstery and refurbishment projects connect deeply to the
lives and the memories of our clients. This is one of the joys of our business.
Memories of grandpa
Recently a customer visited our showroom wanting to restore some heirloom furniture with a very unique family provenance.
Years ago her grandfather worked for Claud Robert Ogden (CRO Furniture) in Sydney's inner west. One day he was asked by his wife to make a lounge suite.
But he was not familiar with building upholstered furniture.
However, inexperience did not serve as deterrent. He was a skilled cabinetmaker and he started gathering timber offcuts from the factory floor. From these
scavenged pieces, he was able to build a lounge and two armchairs to his own unique design.
Although unorthodox, this home-built furniture was a success. His daughter, our client's mother, remembers using them every day growing up in Sydney.
In recent years, the lounge and armchairs passed down to our client. Needless to say, these pieces carry with them emotional and personal memories for
our client and her mother. But after many years of loving use they were in need of repair.
Before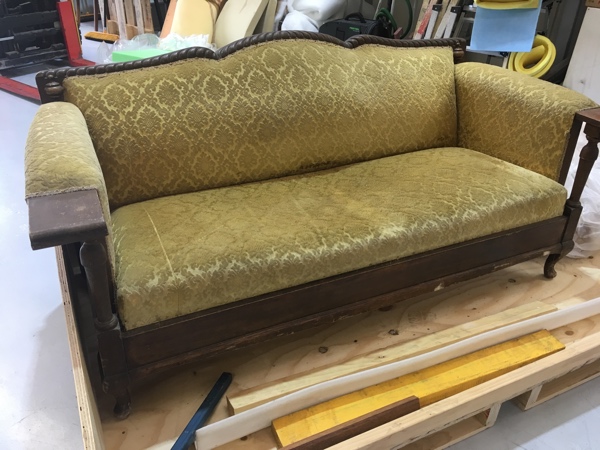 Our client loved the idea of restoring her heirloom furniture and as a result, found herself in our showroom.
In discussion, the project was expanded to include a vintage footstool discovered on the roadside and some wing chairs that would be in the same room as
the lounge suite.
Creative consultation
Since all these pieces would be in the same room, they needed coordination. Colour and fabric selection was critical.
In our our showroom, the customer had access to an extensive range of designer upholstery fabrics. With the aid of our in-house consultants, the she gained
confidence in selecting exciting coordinate colours.
Our state-of-the-art factory and showroom are in the same location. So, while picking upholstery fabrics, the client also saw where her much-loved furniture
would be restored.
Restoration work
It's not every day that we work on home-built furniture, so the requirements made for a nice challenge for our tradespeople.
For all the pieces – frames, padding and suspension required full restoration. The frames were strengthened and re-sprung, and we added new hard-wearing
cushions.
The timber lounge suite arms and decorative timber back were in need of TLC. We brought this back to life through traditional French Polishing.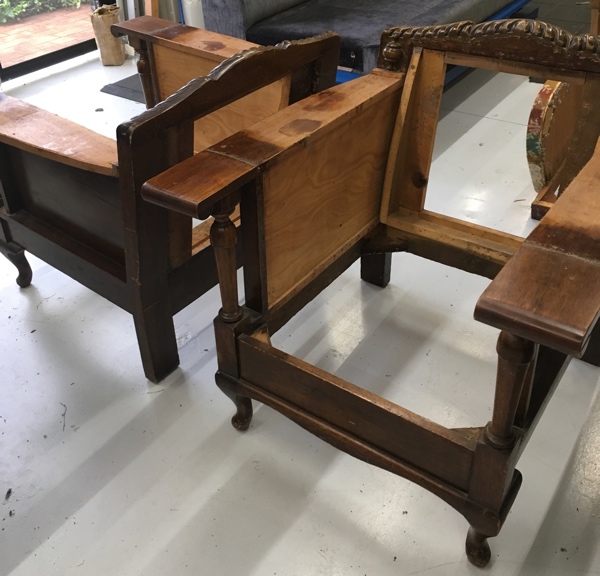 Fabrics and upholstery
A soft colour was needed to offset the timber. We chose a wonderful blue KAI Textiles velvet that shimmers between soft and dark in different lights.
This is used on the main seat / back of the lounge and armchairs.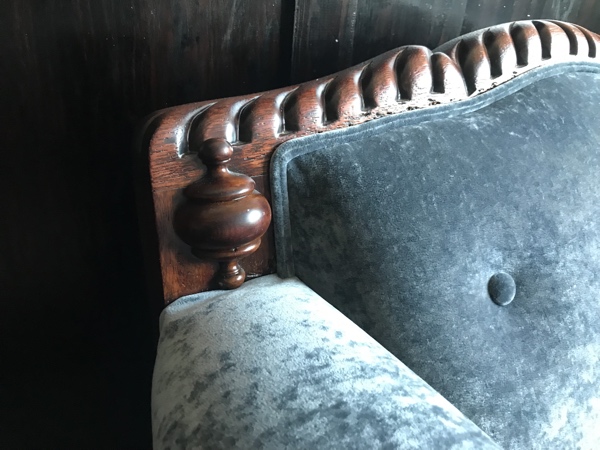 Coordinating with the blue was a bold patterned velvet: Aesop Fable.
This is a surprising match, but it works, adding a unique and personal touch.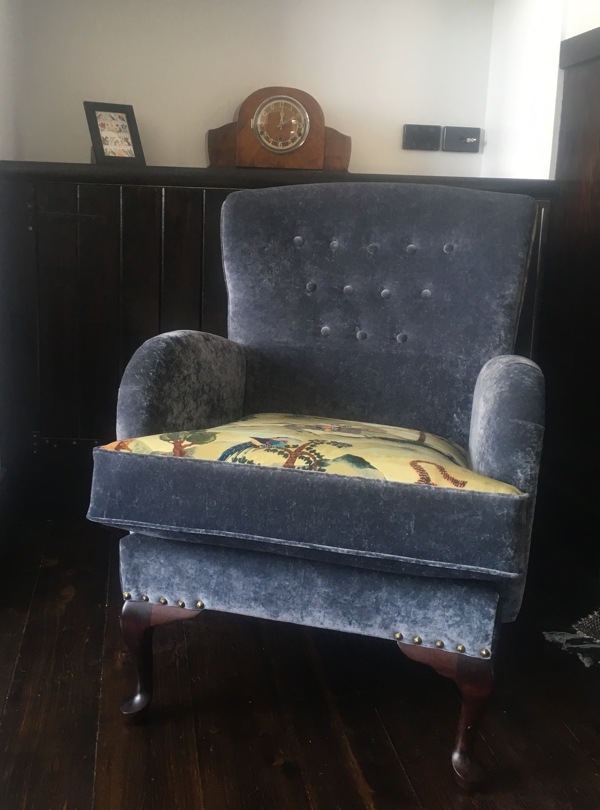 This patterned velvet was used on the outside back of the wing chair, on the ottoman, and on the wing chair seats.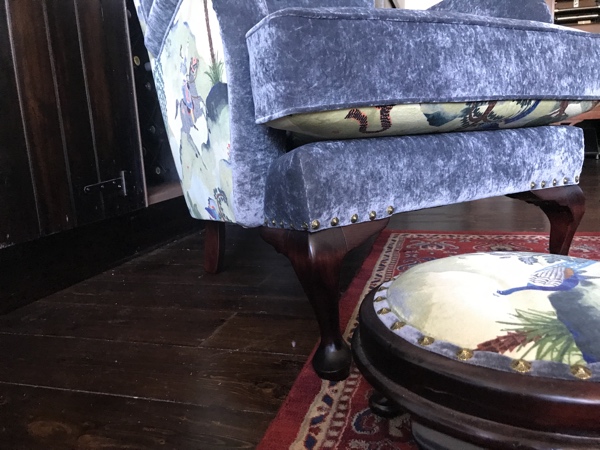 Finally, we added several accent cushions. These splashes of coordinate colour and pattern help to tie the furniture pieces together in the room.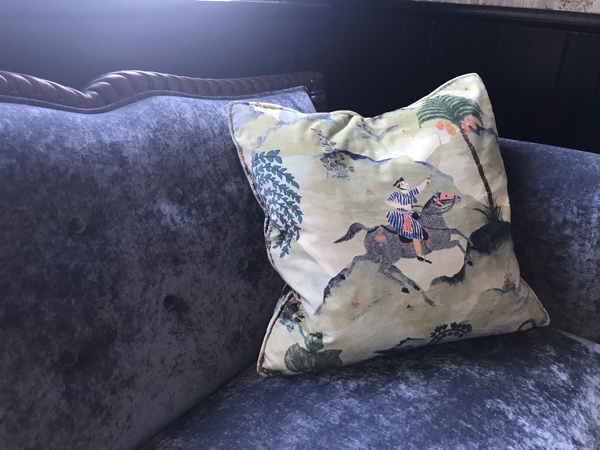 After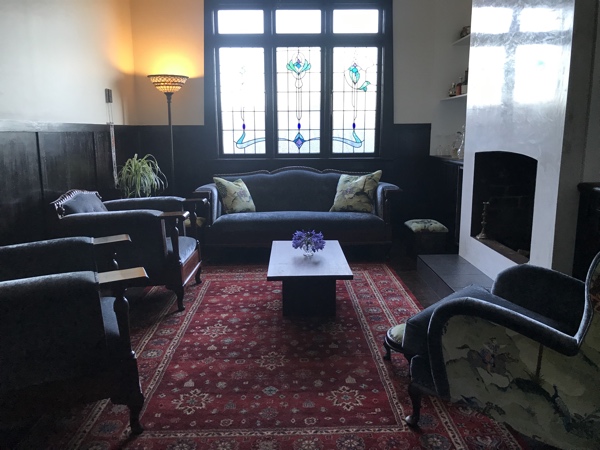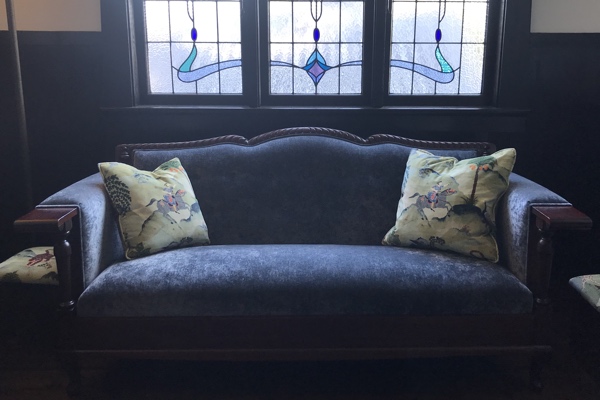 Seeing the finished pieces in the client's home, it is delightful to think that this furniture began as off-cut timber on a factory floor, brought to life
with inventive cleverness.
It was a privilege for the staff at Upholstery Solutions to be involved in such a personal restoration of not only time honoured furniture pieces but the
memories that came with them.
The final result is beautiful upholstery that shows just how memories can endure in the objects that remind us of our loved ones.
Do you have a treasured lounge in need of a facelift? Contact us to discuss your project