---
Vintage Armchair in Bhutanese Silk
---
Vintage Armchair in Bhutanese Silk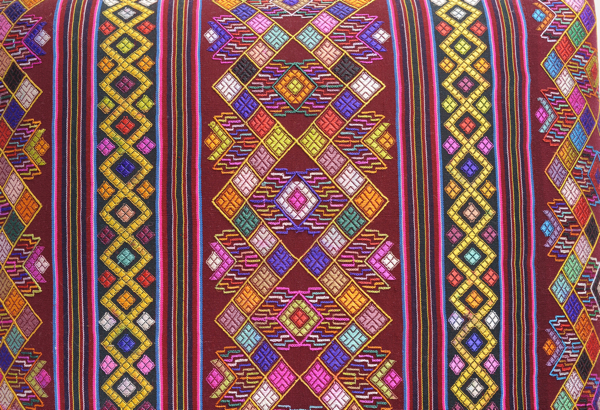 A little while ago a past customer came to us with a rather unique commission: to create an heirloom chair with Bhutanese silk. While on holiday in Bhutan, the client and her husband had purchased a bolt of local silk.
Bhutanese silk is coarser than other Asian silks because, by custom, the Bhutanese are forbidden from killing animals. Even silkworms in their cocoons.
The worms are allowed to escape through the woven silk, breaking the threads and causing the characteristically irregular weave. All the same, Bhutanese silk is highly prized for its vivid colours and authentic, handwoven production. 
The silks are woven by small groups of women, often in their home, to create intricate, geometric or tribal patterns. The weaver's attention to detail is legendary. A single bolt takes about three months to weave on the hand loom. Each one a unique snapshot of the time, place and weaver's skill.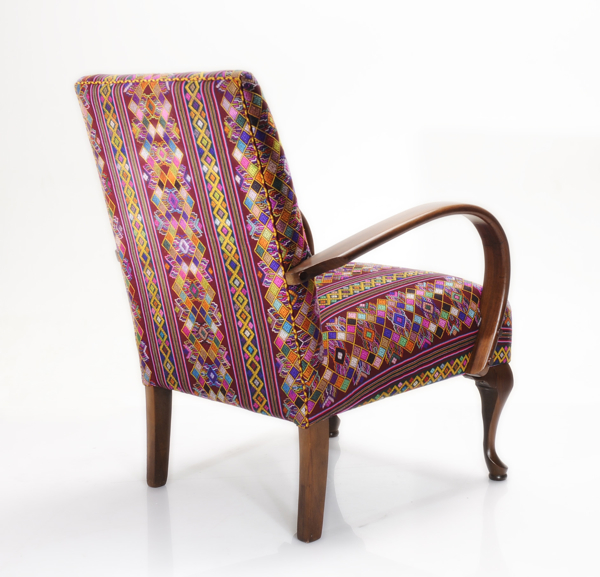 A simple cushion could never do justice to the artistry of this silk. So it was fortuitous that the client found a slender, if unloved, vintage armchair on Gumtree. Our commission was born.
The upholstery of silk is particularly challenging. Silk sags and shrinks with changes in the weather. Silk is dainty. The threads wear through faster than cotton or hemp. To minimise such wear we first upholstered the chair in calico (unprocessed cotton). This created a protective layer, like a washer on a bolt, against the padding and frame underneath. Moreover, the calico layer spread the tension in the silk upholstery: so the silk would not by
damaged by unnatural tolerances.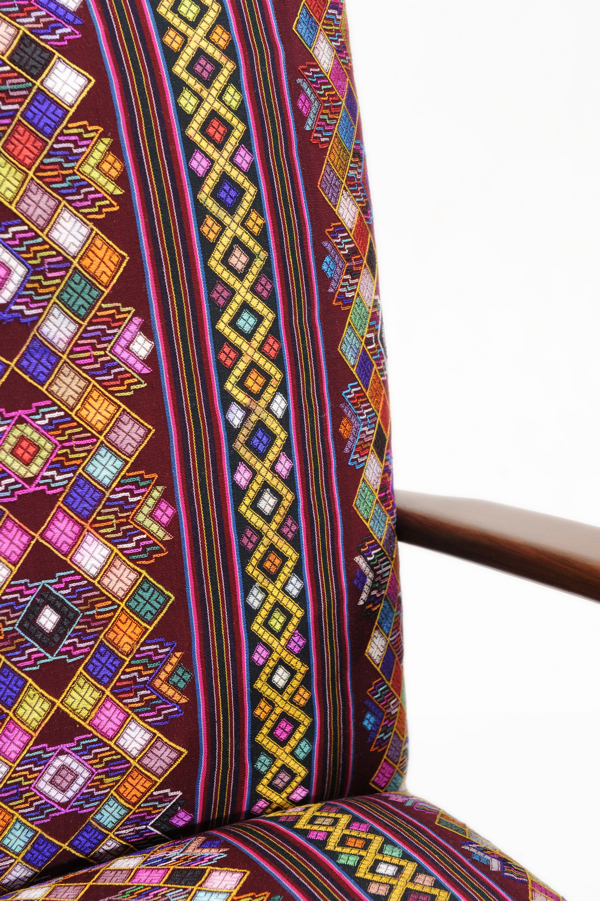 Above: The pattern variations (inherent in hand-weaving) tested our skill when aligning the stripe.
Beneath the upholstery, the chair was stripped to the frame and fully restored. Loose joints were re-glued, frame corners were blocked for strength. The tired old padding was completely replaced: new webbing, hand-tied springing and premium foam cushioning. Broken timber legs and chipped arms were repaired. Then, finally, given a clean and touch-up to protect the vintage patina. 
The results speak for themselves.