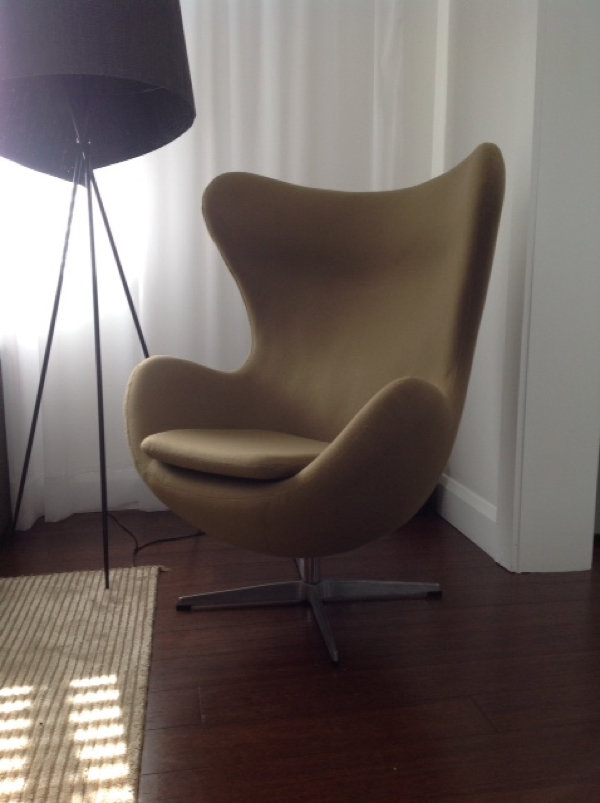 At Upholstery Solutions we love the whole concept of re-purposing an old chair or sofa – rather than that furniture being discarded to landfill. Thankfully,
one of our clients had the same philosophy. She had, for some time, sought to own a pair of iconic vintage Egg Chairs. So, when she came across two Egg Chairs in a sorry state
of disrepair, she had to have them!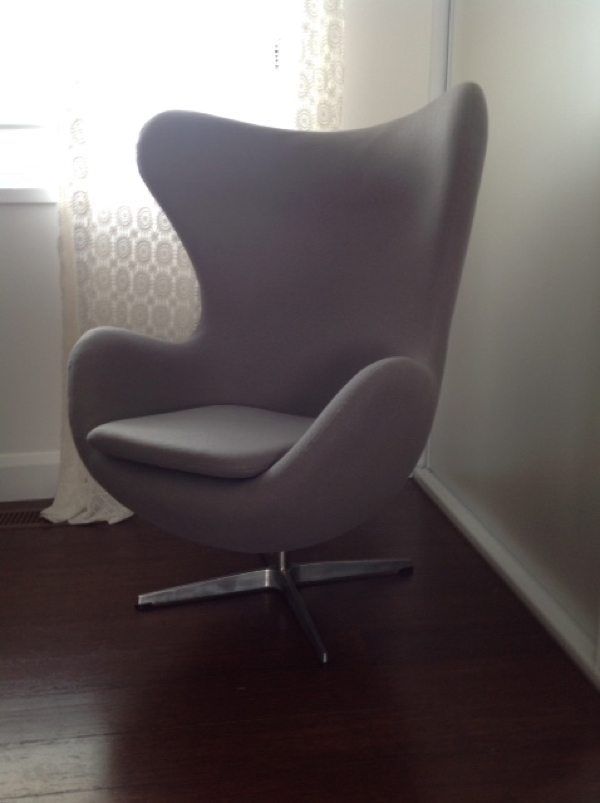 The two chairs were collected separately. The first was spotted in a dress shop that was closing. A quick conversation and it was secured. The second chair
was found in a dark corner of a second-hand office furniture store, unloved and unappreciated. And our client quickly ensured it had a good home. So
with her pair of chairs found – the next challenge was bringing them back to life.
Fabric selection and craftsmanship
We were contacted with a specific brief: to find fabrics that not only suited the Danish era (of the chairs), but which were predominantly natural fibres.
It was a challenging creative brief, but we had a vast library of fabrics to draw from and brought a selection to the client's Manly home.
The client chose two lovely felted wools from Instyle.
The muted colours were a natural compliment to the neutral tones of her home. Moreover, the high quality felted wool possessed a robust elasticity
which made it suitable for upholstering the Egg's complex curves.
The upholstery was carried out over a number of weeks. The chairs were carefully disassembled, checked over and laboriously reupholstered. The battered
padding was replaced. And the complex curves were recovered.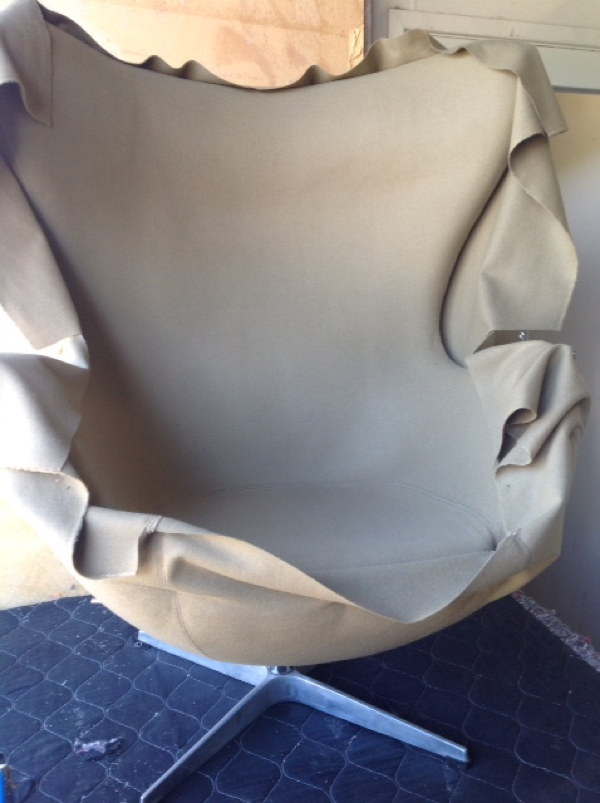 It was a slow, painstaking process which challenged even our very talented Team. In particular, every concave seam had to be intricately hand-stitched
to ensure their lines followed the contour of the chair. (Nothing would be less desirable, or more noticeable, than a jagged chair-length join). But
the end result proved the value of such extraordinary craftsmanship.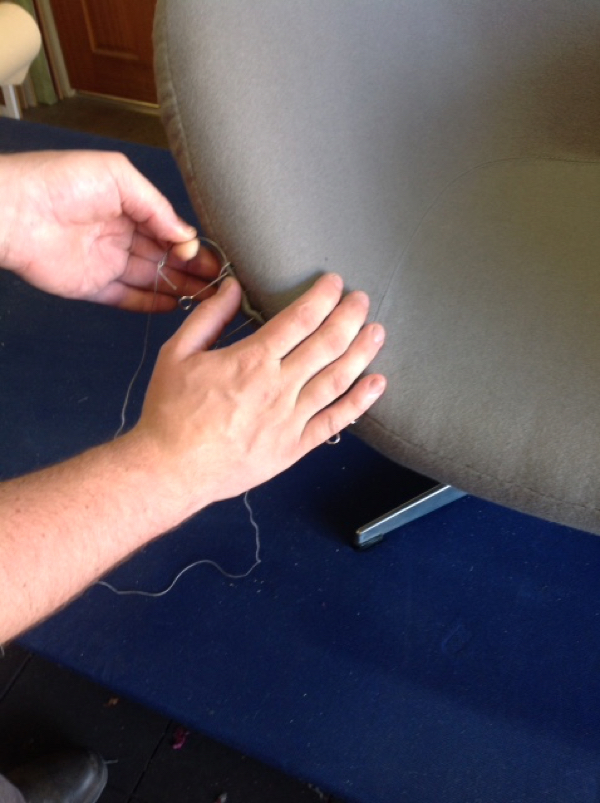 Results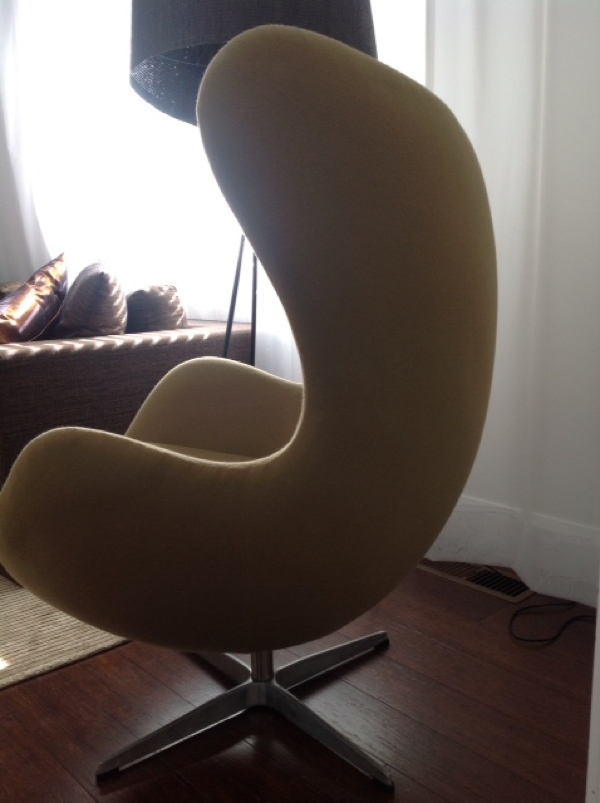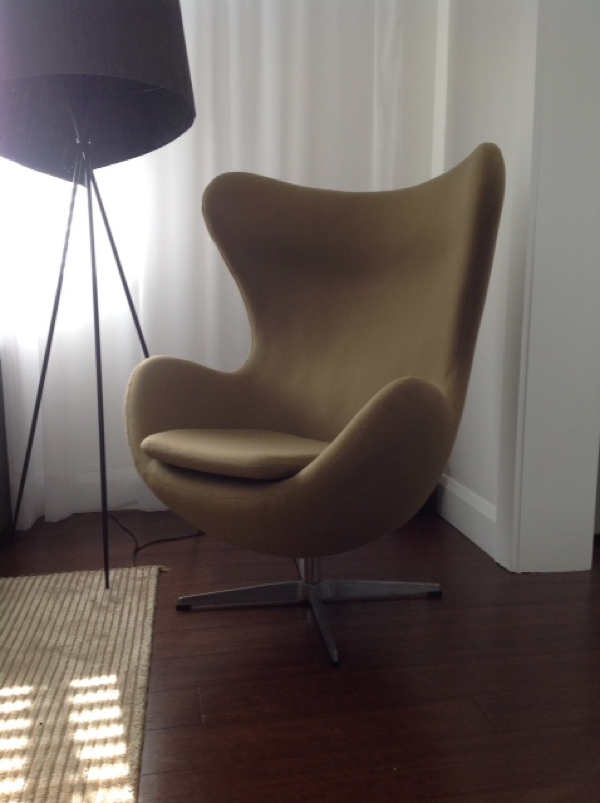 The two Egg Chairs now stand proudly in the client's Manly home. Another pair of chairs saved from the landfill heap, now ready for a lifetime of beloved
service. The client couldn't be happier:
I'm very happy with the excellent job of recovering my two Egg chairs. They are my favourite furniture items and the handiwork of Upholstery Solutions is of the highest quality.
The Egg chairs are a true test of an upholsterer's skills as they are notoriously difficult to recover with fabric. However, the chairs look better now, than they did with the original fabric, and I am very happy that I chose David's team to do this.
I thoroughly recommend Upholstery Solutions to discerning customers.
What do you think? Egg-cited to revive your own special find? Let us know in the comments!