---
Bespoke Headboards in Bondi & Vaucluse
---
Bespoke Headboards in Bondi & Vaucluse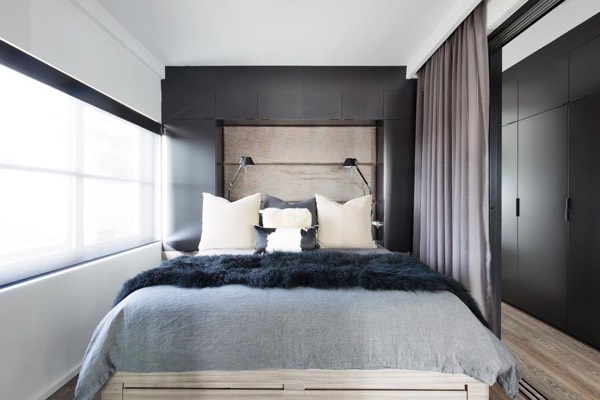 Finding furniture that 'fits' is a constant challenge for anyone living in an apartment. In recent years, we have had many clients come to us from apartments
in Sydney's Inner West and Eastern Suburbs. Often these clients want bespoke upholstered fittings,
such as bed headboards, custom sized lounges and built-in seats. As you'll see, custom upholstery can provide a beautiful 'finishing touch' to apartment
decor.
Recently we worked with Shiera Design to fit out luxury apartments in Bondi Junction and Vaucluse. Shiera is a true taste-maker in the Sydney interior design community, blessed with an
ability to dream up fresh and on-trend looks that fit the life (and style) of her inner city clientele. Working with her team is always a pleasure,
and these projects were no exception.
Bondi Junction Apartment: Luxury Upholstered Headboard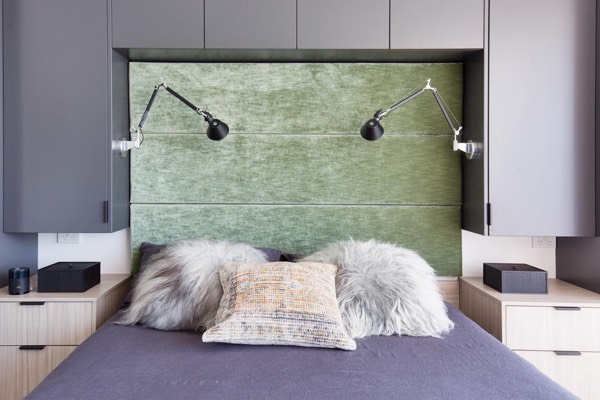 For the first apartment project, in Bondi Junction, we crafted an upholstered headboard that could be fitted into a wall behind the bed. This 'fitted'
look is carried through all the apartment fittings: creating a modern, upmarket and exclusive feel.
Since the headboard was to be fitted between bespoke cabinetry, we had no room for error. Precision measurements and craftsmanship were essential. Moreover,
the installation had to be done with care and skill, so the headboard wouldn't rattle once fitted on the wall.
In this project, the interior colours and upholstery fabrics were selected by Shiera Design. The headboard was upholstered in a green velvet from Zepel, contrasting beautifully against the grey wall cabinetry,
and the throw pillows in a variety of contemporary textual fabrics. Together this combination of colours and textures is a vibrant compliment to the
aubergine of the bed spread.
If you look carefully you'll notice that the velvet headboard appears to shimmer. This effect is achieved by upholstering the fabric so that the pile will
catch the light from windows and overhead lamps. A subtle, but important, finishing touch.
Vaucluse Apartment: Upholstered Headboard and Bespoke Seating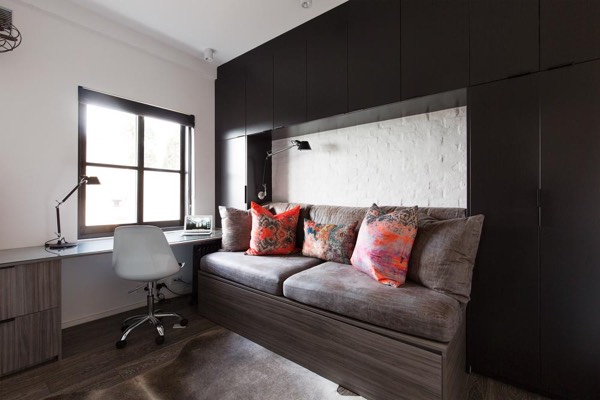 In Vaucluse, the client required a custom-made upholstered headboard (shown at the top of this post) and built-in seating. The specific location being
the master bedroom, where a wall-mounted headboard would provide both a fitted and tailored look.
In addition, the upholstered seat with back cushions converted an idle nook into a secondary seating option for watching television or reading. Again precision
was of paramount importance and extensive on-site measurements were required.
When custom-making the seat, we worked closely with the Shiera Design to define the optimum thickness and size of the cushions. This was essential to achieve
comfort for either sitting or lying down on the built-in seat. The back cushions were also ergonomically shaped to enhance comfort.
For the fabric, the client selected a luxuriant faux leather with an aged effect. This faux leather was used to upholster the headboard and seat cushions.The
tan of the leather stands out beautifully against the black cabinetry and grey bedding. The texture of the faux leather is also a clever contrast to
the smoothness of the veneered timber. The result being a room that is tied together with a sophisticated and superbly balanced colour range across
headboard to seat and throw cushions.
Upholstery Solutions for Sydney Apartments
If you're looking to renovate your apartment and you're challenged for space, why not add some class and sophistication through bespoke upholstery? Or
perhaps you're a designer that needs a luxurious headboard or custom sized furniture. Be reassured that whatever your upholstery requirements, we have
the skill and expertise to achieve your vision.
Keen to discuss your upholstery project? Contact us for an in-home consultation.