---
Before & After: Danish Furniture
---
Before & After: Danish Furniture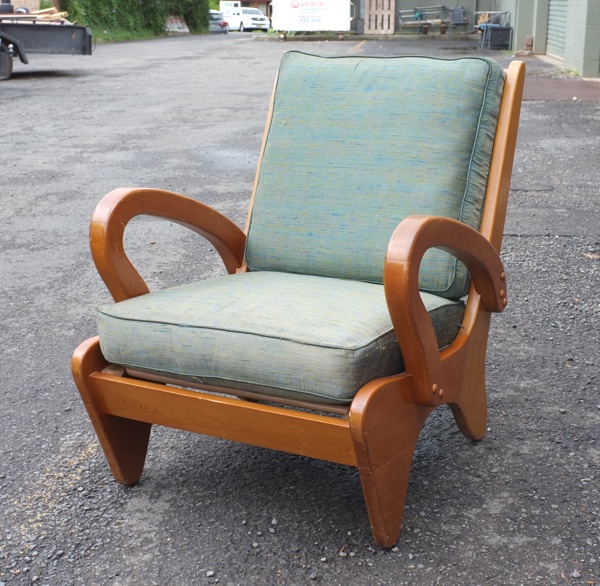 Today, no self respecting home-styler can rest without a few chosen pieces of Danish furniture. But many people get stuck deciding whether to buy a modern
reproduction or restore an original.

Given the popularity of designers like Arne Jacobsen, genuine originals are difficult
to source and costly to acquire. While modern ('Danish style') knock-offs can lack the charm and quality of vintage originals. But there is a third
option.
The Best Choice: Retro Reproductions
When customers ask us to source Danish furniture, we advise a third option: Retro Reproductions. This is our term for the wide variety of reproduction
Danish furniture made in Australia and New Zealand between 1949 – 1974. Not many people know about Retro Reproductions. But if you know what brands
and styles to look for, you can find affordable second-hand pieces on eBay, Gumtree and the occasional Council clean-up.
Retro Reproduction furniture combines that magnificent Scandinavian sleekness with robust Aussie hardwoods and traditional furniture craft. The result
is both stylish, and high quality. Plus, being reproduction, you are not obligated to maintain the original look and feel. You have the freedom to
choose any fabric, and reimagine
the furniture to suit your needs.
So if you're in the market for designer Danish furniture, we believe your best choice is to restore a Retro Reproduction. It will be beautiful, high quality
and uniquely you. This recent Before and After demonstrates the amazing results that you can achieve.
Retro Danish Armchair – Before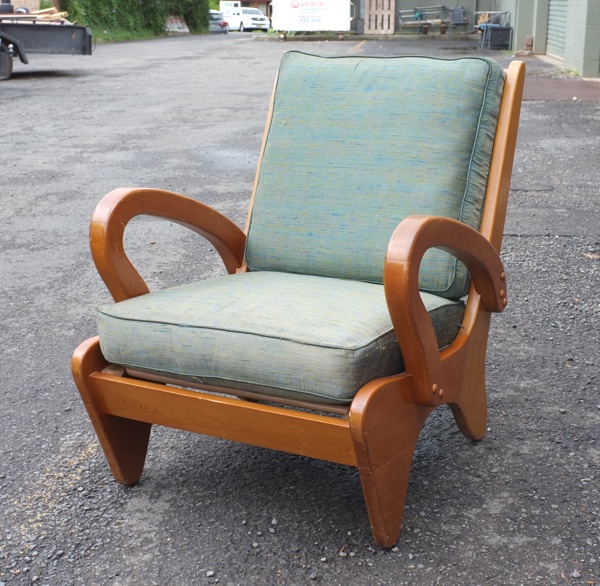 Retro Danish Armchair – After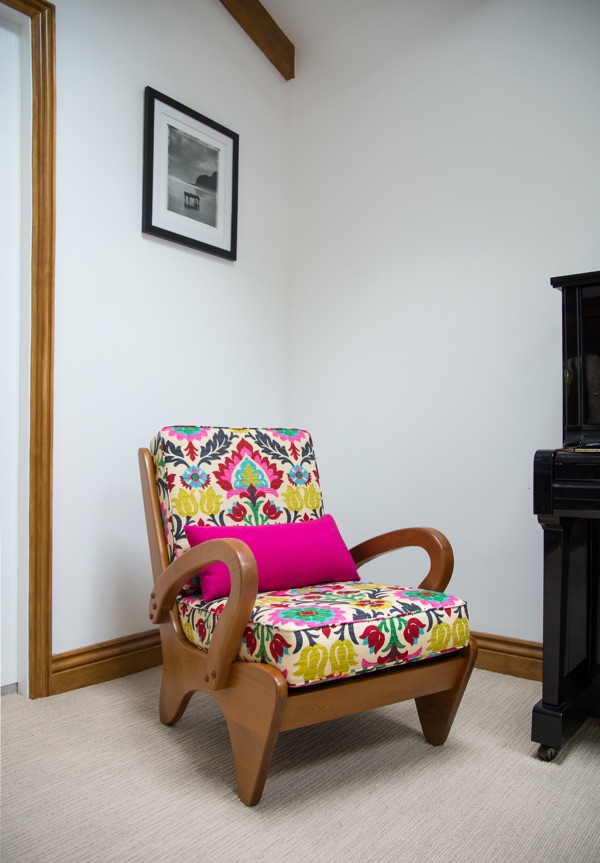 The timber (coachwood) arms and frame were throughly cleaned and French Polished.
The seat and back were cushioned with premium foam and upholstered in The Textile Company's Saragossa 'Desert Flower'. To compliment the vibrant upholstery, we added a feather down lumbar cushion in bright pink linen.
Danish Divan Lounge – Before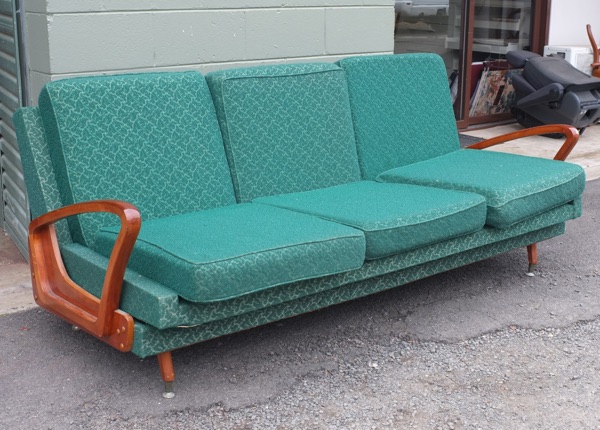 Danish Divan Lounge – After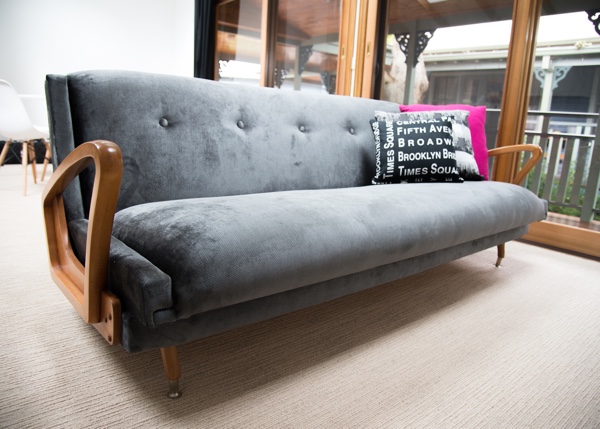 The original 'loose' seat and back cushions were discarded and a replaced with 'built in' seat and back upholstery. New seat and back are cushioned with
premium foam, sculpted to the client's comfort. The upholstery is the beautiful quality Dolche 'Pewter' velvet from Warwick, accented with a
hot pink lumbar cushion (the same as the armchair). It is pictured here with additional throw cushions supplied by the client.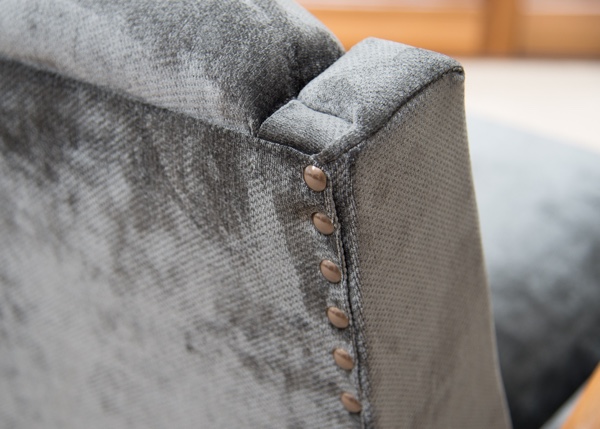 Details like hand-hammered studding create aesthetic interest from any angle.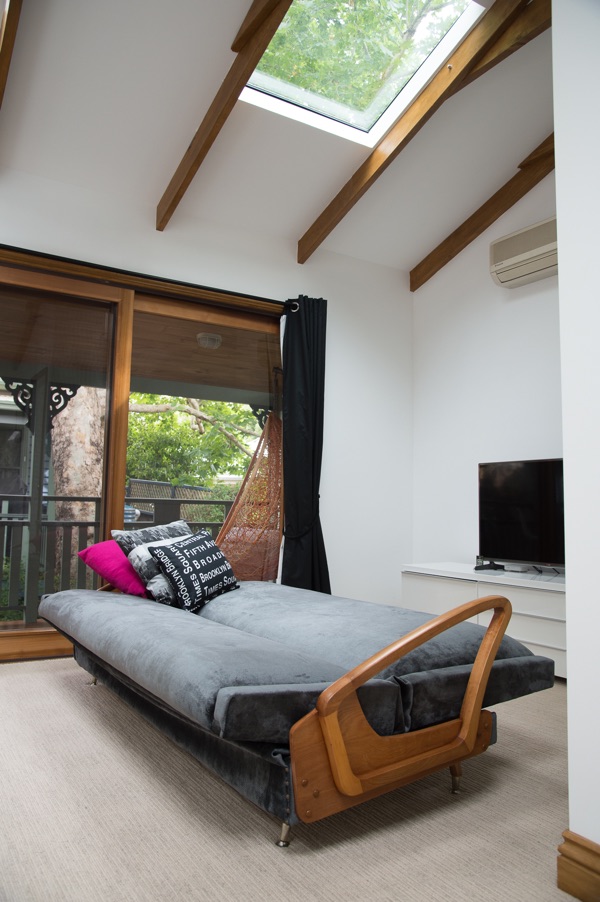 The coachwood frame was carefully repaired and rebuilt so that the divan mechanism could open correctly. In summer, it is an irresistible day bed, perfect
for a quick nap underneath the skylight.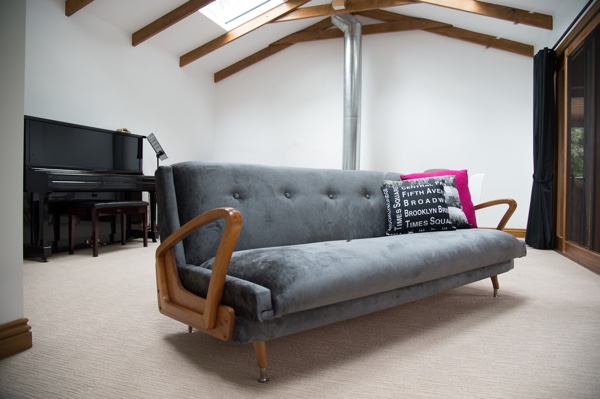 All timber was cleaned and sympathetically French Polished (the same as the armchair) to ensure that the patina was maintained.
Inspired? Excited? Contact us to create your stunning new look